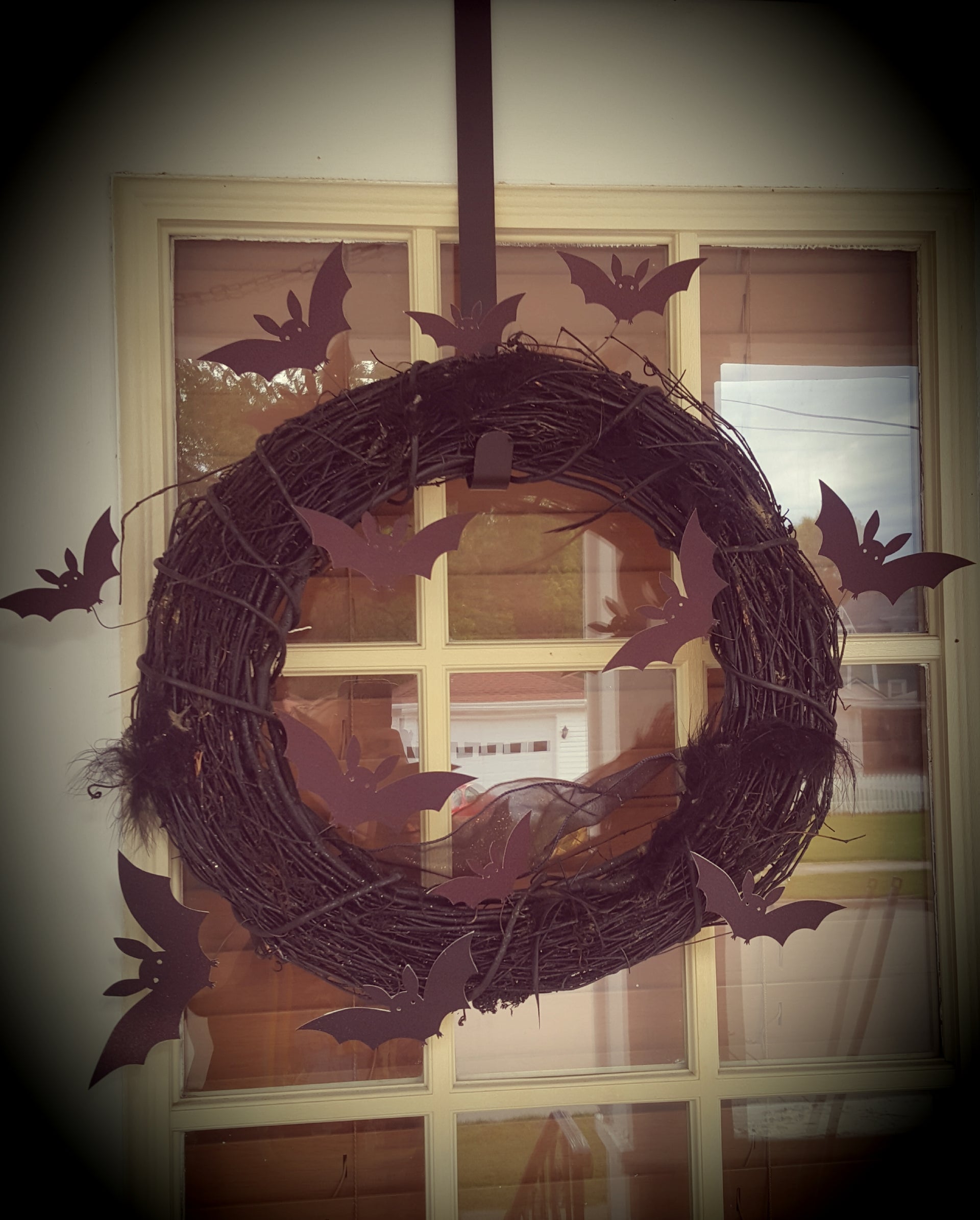 Classic Spooky Black Wreath for Halloween
Since Halloween is my very favorite holiday to decorate for (as you can see by my kitchen), so of course I had to make something fresh and new for my home this season.
I decided to make a classic looking black wreath to hang on my wall. This project can be personalized in so many ways and you can add on whatever you would like to create the perfect assemblage that works for your spooky holiday decor. 
What I used was:
Cricut Shimmer Paper Sampler, Classic (black sheets)
Grapvine Wreath (larger size)
Black Spray Paint 
Black Glitter 
Black Feathers
Spray Adhesive 
Bag of Decorative Green Moss
Black Ribbon
Black Floral Wire 
Hot Glue Gun 
The first thing that I did was spray paint my grapevine wreath black and once dried I sprayed it with my adhesive and applied my black glitter to add an extra hint of subtle shine to it. I then added my ribbons, moss and some black feathers to give my wreath even a bit more style! You can really add any types of things that you would like to your wreath to personalize it.
After I had my wreath itself decked out in my spooky elements, I went ahead and got my Cricut Maker going on cutting out various sizes of bats. I found my bat image online. I used a free clip art image of a bat that I found on-line.
I used the black sheets from my Cricut Shimmer Paper Sampler, Classic.
After I had all of my bats cut, I began hot gluing them to the tops of my black floral wire.
I cut the wire to be all different sizes for that my bats can vary in their placement around the wreath. I took my "bat wires" and tightly fastened them around my wreath.
If you would like them to hold even tighter you can apply some glue as well to them for added stability.  
Related Posts
Halloween Entryway with a Cricut
DIY Cricut Craft Projects for Halloween