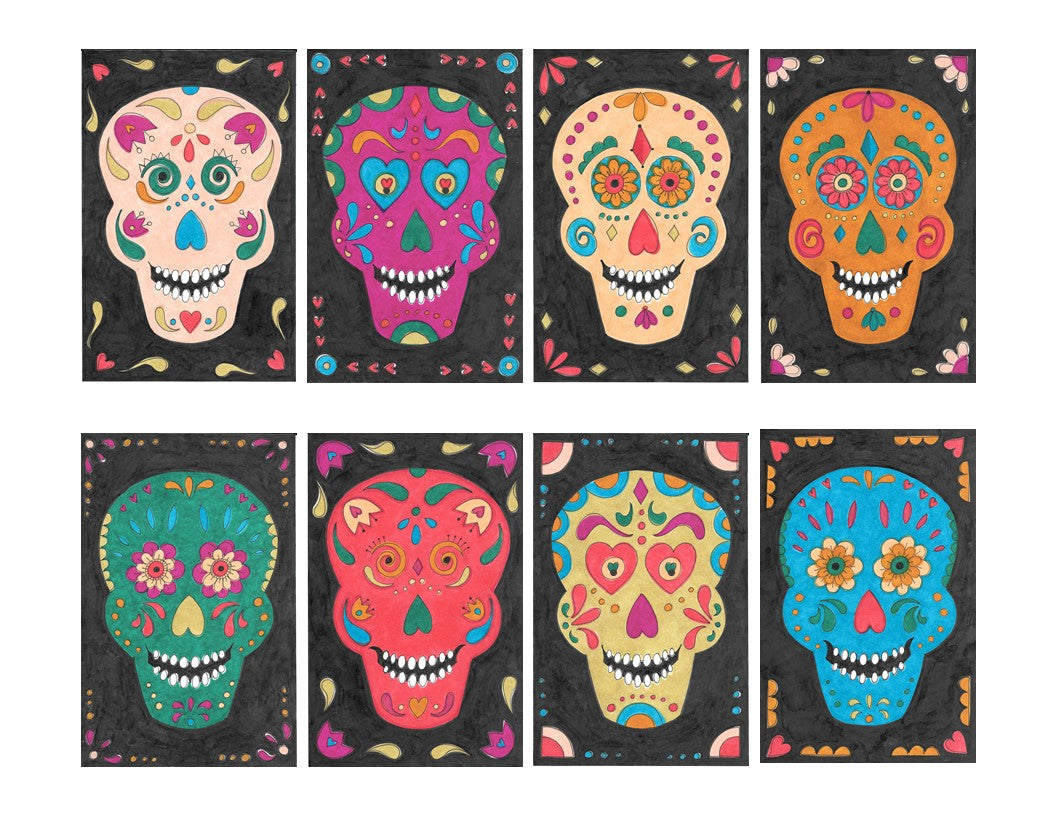 DIY Paper Halloween Banner (Free Coloring Pattern)
This DIY project is perfect for those looking to add some flair to their Halloween decor. Using your favorite alcohol ink markers, you can create a series of colorful sugar skulls on marker paper. These skulls can be used to create either a full-size banner or a series of miniature pennants. The process involves coloring the sugar skulls, adding additional flourishes, and outlining the teeth and designs with a fine-point black marker. Once the skulls are complete, they can be scanned and resized for miniature pennants or adhered to a backing material for a full-size banner. This project is easy to complete and allows for creativity in color choices and additional design elements.
Basic Supplies
Markers in your choice of colors plus black (sample created using Spectrum Noir Alcohol Ink Markers)
Fine-point marker in black
Marker paper
Scissors
Pencil
Supplies for Mini Pennants
Old playing cards (2.25 in x 3.5 in)
Gesso
Photo or another printer paper
Scotch Brite pad or fine sandpaper
Acrylic paint in your choice of colors
Gel medium or decoupage glue
Choice of string material – embroidery floss, ribbon, twine, etc.
Supplies for Full-Size Banner
Choice of backing material – stiff felt, cardstock, or other heavy paper
Choice of string material – embroidery floss, ribbon, twine, etc.
Directions
Print patterns on marker paper or other heavy paper.  Cut paper in half – into (2) 5.5 in x 8.5 in pieces – to separate the images.
Select 7 or 8 markers to use across the entire project.  Split your color selections between bright or dark colors and light colors.  The sample project was created using the following colors from Spectrum Noir's line of professional alcohol markers:
Color the background of each sugar skull using one of the marker colors.  Use the additional marker colors to color the designs on the skull.  Loosely outline the skull designs using a fine-point black marker.  Add additional flourishes to the designs if you'd like.
Outline the teeth using the fine-point black marker.  Color the empty space between the teeth black.  Add any additional details you'd like to give further shape to the mouth using a black marker.
Pencil in design flourishes at the 4 corners of the paper.  Use the designs on the skull for your inspiration.  Color the flourishes and loosely outline the designs using the fine-point marker.  Color the background using a black marker.
Mini Pennants
Create a digital scan of your finished sugar skulls.  Resize the images to about 2.25 in. x 3.5 in. to fit on a standard playing card.  Print the small skulls on a sheet of photo or other paper.  One letter-size printed sheet will create 8 miniature pennants with images on one side.  Print additional sheets to make a banner with more pennants or one with images on both sides.  Cut out the images.
Lightly scuff the surface of the old playing cards using a Scotch Brite pad or very fine sanding pad/paper.  Apply gesso to both sides of the cards.
Paint the cards using your favorite colors or use any specialty finish.  If you need a uniform white finish for your chosen technique, an additional 1-2 coats of gesso may be needed to obscure the design on the cards.  Allow to dry.  Adhere the small sugar skull images to the painted playing cards using gel medium, matte medium, or your favorite decoupage glue.  Be sure to apply the medium both under and on top of the paper.  Allow to dry.
Poke a small hole in the top of each card using a large needle or pointed end of your scissors.  Alternately, punch a hole at each top corner using a hole punch.  Thread your choice of ribbon or cord through the punched holes to suspend each pennant from the cord.  Hang and enjoy!
Full-Size Banner
For the large banner, cut (8) 7.5 in. x 10.5 in. rectangles from your backing material. This will create a flag with a one-inch border around each sugar skull.  Or get creative with another shape to back the colored artwork for your banner.
Punch a hole .25 – .5 in. from the edge at each top corner of each flag.
Adhere the original colored sugar skulls to your backing material.  Use glue to adhere your papers to stiffened felt; use glue or double-stick tape if using chipboard or cardstock to back your images.
Cut a length of ribbon or cord to accommodate all your flags plus several feet extra on each end for hanging.  Thread the ribbon or cord through the punched holes.
Related Posts
Halloween Entryway with a Cricut
Classic Spooky Black Wreath for Halloween