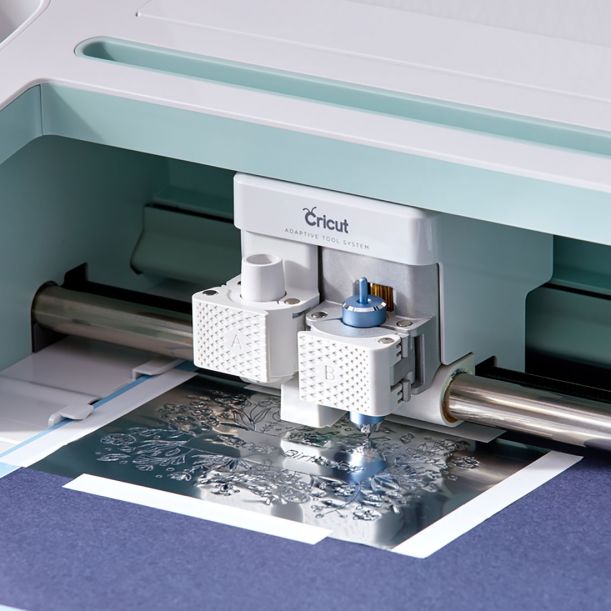 Cricut Foil Transfer Tool: New Arrival at Craft-e-Corner!
We are so excited to share with you that a new Cricut product has arrived and it's called the Cricut Foil Transfer Tool. This 3-in-1 tool allows you to make your projects shine with stunning foil effects on them — think cards, invitations, gift boxes and more. This tool creates beautiful, embellished foil projects that are polished and long-lasting (see a project below!).
You can snag one of these tools from Craft-e-Corner on our website! Here are the links to purchase one — you can either buy just the foil transfer kit or purchase one of our bundles!
When you order the kit, this is what it looks like (see above). This is basically a 3-in-1 tool that allows you to make foil effects on a variety of projects. You can apply the foil onto paper, faux leather, kraft board, printable vinyl, and more. Let's open it up and see what's inside!
Inside is everything you need to get started working with foil!
1 Foil Transfer Tool Housing

: this housing will work for all three tips. It's specific ONLY to the foil transfer tool so you can't interchange it with the other blades. It's magnetic, so to switch through the tips, you simply hit the plunger to push out the tip and then slide a different one in.

3 Foil Transfer Tips: fine, medium, bold

— each of these tips has a different thickness and you can tell which is which by looking at the lines on the tip. 1 line means it's fine, 2 is medium and 3 is bold. I'm so excited that it comes with three so we can have a variety of lines to work with!

12 Foil Transfer Sheets: 4x6" (colors may vary)

— these are the foil transfer sheets you'll place on top of your base. It comes with 12, but of course there are more you can purchase separately.

Tape:

Tape is a key component to successful foil transfer projects. We'll cover this more later, but you'll have more than enough tape for your projects here and they're already pre-cut for you! 
A few other important items to note about the Cricut Foil Transfer Tool:
This tool is pressure-activated, unlike other similar tools on the market that are activated by heat. Yay! There are also no cords that you have to plug in, you just simply place the tool into the B-slot like you would insert a blade!
The full MSRP on this kit is $39.99 and comes with everything I just mentioned
This tool was designed to be used with the Cricut Maker and Explore family machines. It's not compatible with the Cricut Joy.
This tool also requires a computer to use with Design Space, as it's not compatible with mobile apps.
Well, what do you think? What kind of projects will you make with the Cricut Foil Transfer Tool? Stay tuned for more blog posts and videos coming soon — and make sure to snag your Foil Transfer Tool from Craft-e-Corner today!
Related Posts
Christmas in July: 3 Cricut Foil Transfer Tool Projects
Cricut Foil Transfer Tool Project