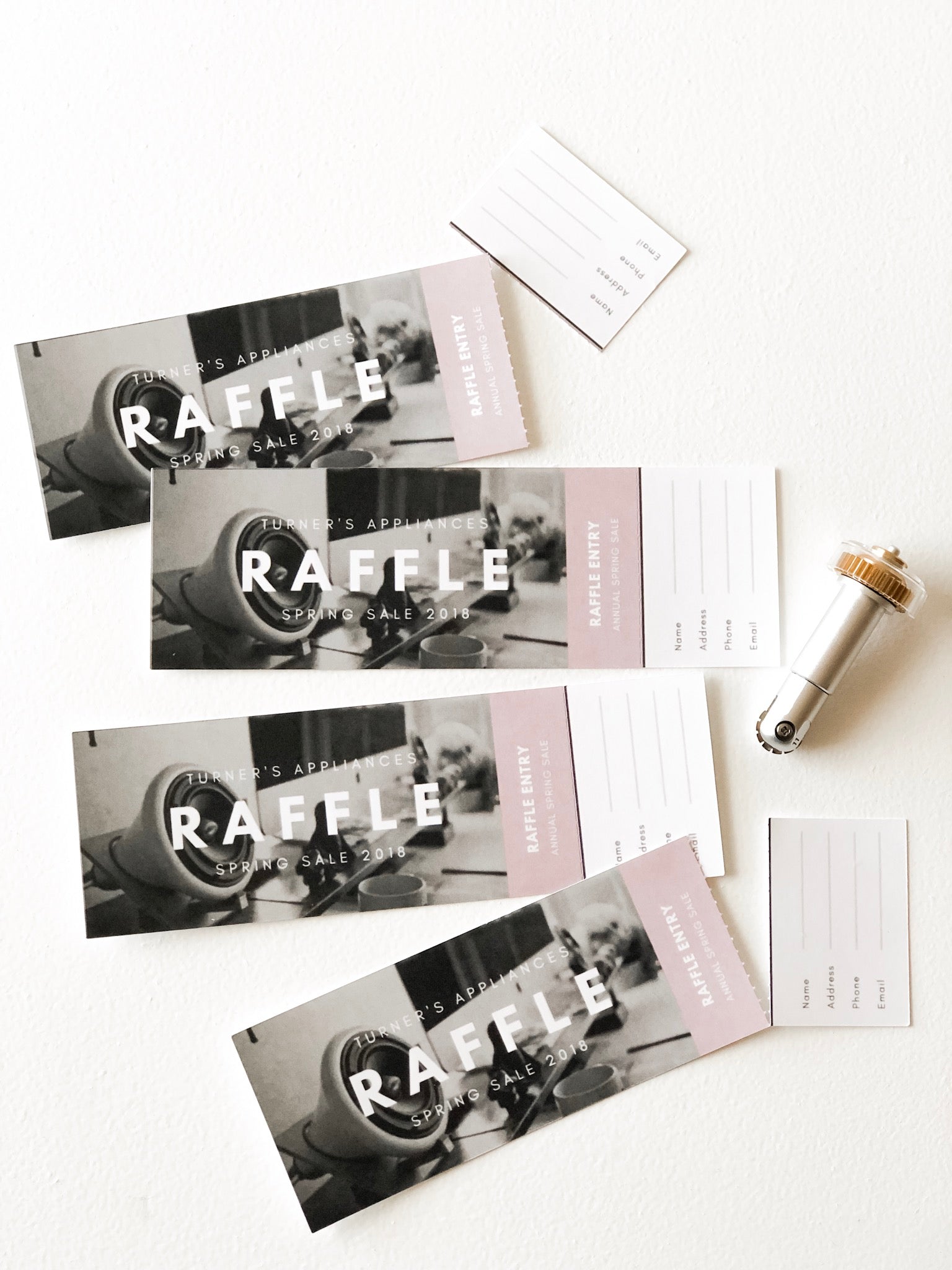 Cricut Maker Perforation Blade: Raffle Tickets
Over the past few weeks, I've been sharing about the new Cricut Maker blades and tips. We've covered the Wavy Blade, the Debossing Tip and today's feature is the Perforation Blade! I made some raffle tickets using the Print-then-Cut feature and wanted them to be able to tear, so I added a perforation line! Before we get started, I wanted to remind you that this is specific only to the Cricut Maker.
THE PERFORATION BLADE
The Perforation Blade is one of my favorites of the new four blades/tips. With the Perforation Blade, you can create evenly spaced perforation lines for clean, even tearaways. Think tear-out booklet pages, raffle tickets, homemade journals...or really any project that could use a clean, easy tear. You can cut a plethora of materials with the Perforation Blade: acetate, copy paper, Cardstock, faux leather (paper thin), felt, kraft board and tons more!
You can purchase the Perforation Blade with or without the housing:
DIY RAFFLE TICKETS
I was so excited to work with the Perforation Blade that I made some fake raffle tickets. 😂 but really, I just wanted to see how well this could work for future projects and I'm STOKED at the results! I'm excited to show you how awesome the Perforation Blade is.
Materials:
To get started, create your design and then upload it to Design Space as a Print-then-Cut design. Here's what my raffle ticket looks like. If you're looking for a great, free program to create designs, I can't recommend Canva enough. They have so many templates for free on there -- that's where I pulled this one from!
Once you get it uploaded to Design Space, then we're going to need to add the Perforation Line to the ticket. I'm adding mine right on the black line. To do this, click on "Shapes" on the left-hand side of DS and click on "Score Line". Once it's on your canvas, then find the dropdown menu and click on "Perf". Then drag your line to the ticket, size it accordingly, and attach it to the ticket. To see a visual of this, check out our YouTube video listed above.
Then we are going to print on a home printer! Once that's done, let your paper dry and then place it on a LightGrip cutting mat. I used a brayer tool to help secure it to the mat. An XL Scraper tool would also work too! Then insert the Perforation Blade and hit cut. The Cricut will read the design first and then get cutting.
Once it's done, then insert your Fine-Point Blade and hit cut. Once that's done, carefully remove the tickets from the mat. I like to flip my mat so that the backside is facing up and bend the mat, while I carefully remove the tickets. Check out the tear on these tickets! I could just tear them all day long.
How would you use the Perforation Blade in your everyday life? Happy making!
-Courteney
Related Posts
DIY Paper Scroll + the Cricut Maker Wavy Blade
Cricut Maker Debossing Tip: Card
All About the Blades: Fine Point, Deep Point and Other Blades to Use with Your Cricut Machine