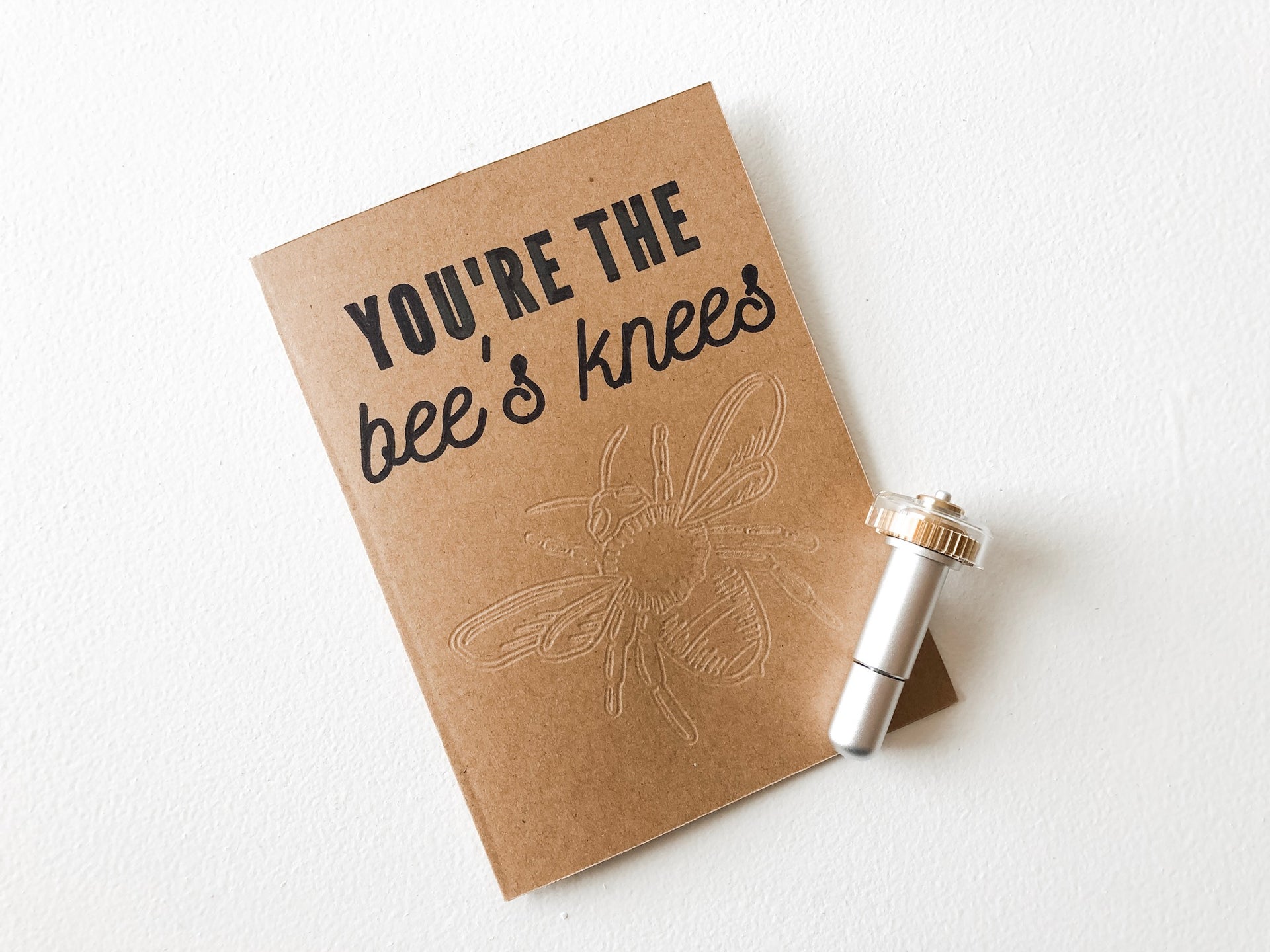 Cricut Maker Debossing Tip: Card
Have you had a chance to try out the new Cricut Maker blades and tips yet? They are a recent arrival to the Cricut Maker family and we have been loving them! We have already shown you how to make a project with the Wavy Blade and now we're back to show you how to make a project with the Debossing Tip! Remember: the Debossing Tip is only available for the Cricut Maker.
The Debossing Tip
To be honest, when Cricut first showed us the new Maker blades and tips, I had never heard of "debossing" before. I was familiar with embossing, but never had heard of debossing. Basically, this tip simply presses into your material, creating crisp and detailed debased designs. As you can see in the photo above, the bee design is literally pushed into the card. It's simply the opposite of embossing! This tip adds dimension and texture to your projects. It's perfect for Cardstock, foil poster board, Cardstock or Kraft board like I used above!
You can purchase the Debossing Tip with or without the housing:
DIY CRICUT CARD
For the Debossing Tip, I created a simple card out of some kraft board. My father-in-law is a farmer and has bees, so I thought this would be the perfect card for him on his birthday! 
Materials:
This project uses three different blades/tips and one pen, so it might seem a little complicated at first, but it's actually very simple!
The first step is to apply the Kraft board to a LightGrip cutting mat. I used a scraper tool to help adhere it to the mat. Then insert it into your Cricut! Before you hit cut, insert the Scoring Wheel or Scoring Stylus and the 0.4 Black Pen. The first step your Cricut will complete is to score and draw on your project.
Once that is finished, then it will emboss. Remove the Scoring Wheel and insert the Debossing Tip. This step will take the longest. You may see the Debossing Tip spin and move, and that's totally normal. Finally, when that's finished, insert the Fine-Point blade and hit cut.
Now that we are finished with the Cricut, we will color in the letters with the 0.4 Black Pen and a sharpie.
Then lastly, using a Scoring Stylus or your fingers to fold the card and enforce the crease. Then you're done! See, I told you it was simple!
If you haven't tried out the Debossing Tip yet, I hope this encourages you to give it a shot. Happy making!
-Courteney
Related Posts
Cricut Maker Perforation Blade: Raffle Tickets
All About the Blades: Fine Point, Deep Point and Other Blades to Use with Your Cricut Machine