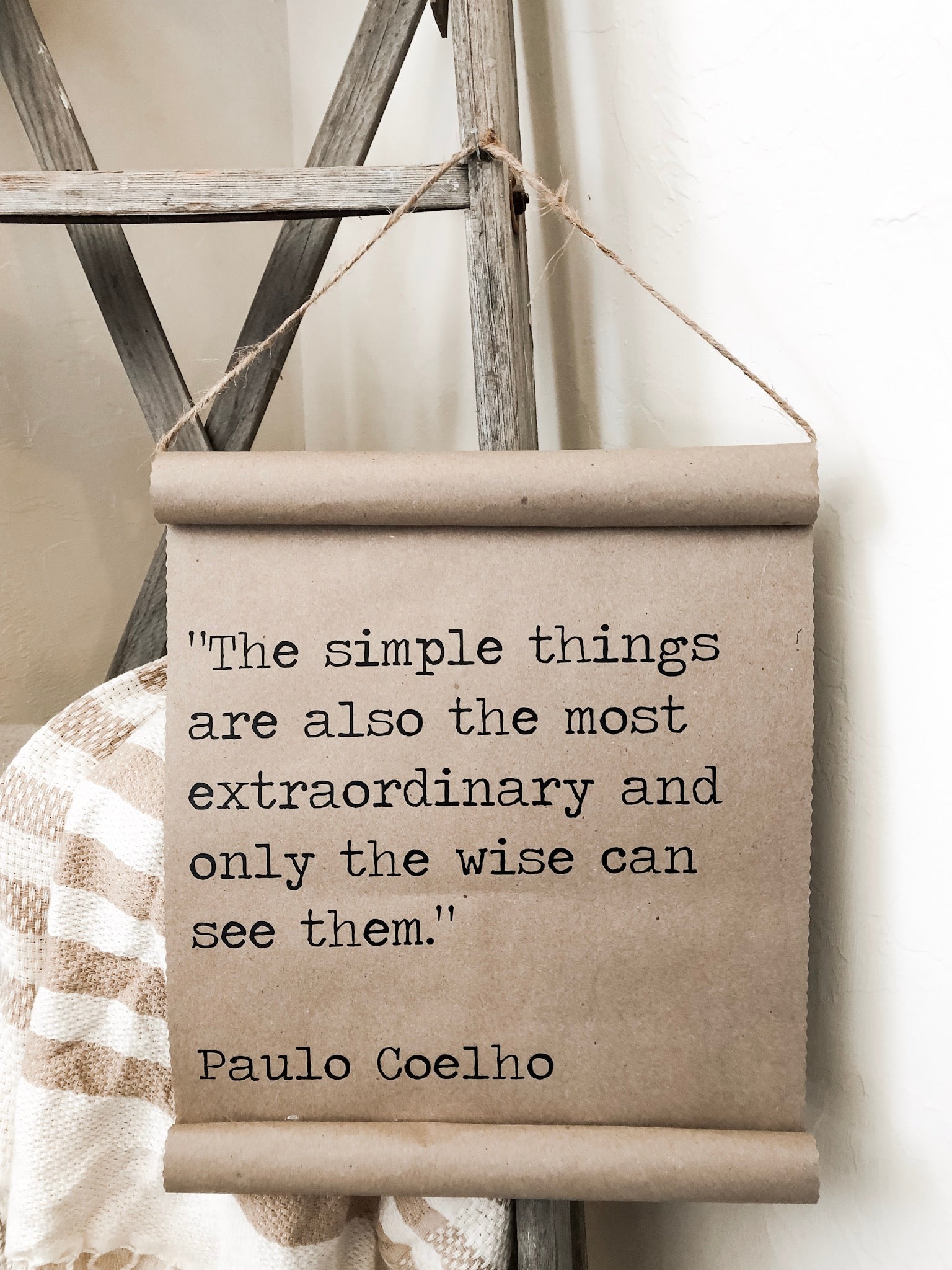 DIY Paper Scroll + the Cricut Maker Wavy Blade
If you haven't heard yet, Cricut has recently released FOUR new Cricut Maker blades and tips! They are the Debossing Tip, the Engraving Tip, the Wavy Blade and the Perforation Blade. Over the next two weeks, I'm going to walk you through each of the new blades/tips and a project to go with each of them. If you're looking for a general overview, check out our blog post!
Before we get started, I did want to note that using the Wavy Blade is specific to the Cricut Maker. However, you can definitely make this project with a straight edge and use the fine-point blade on any Cricut machine.
First up, let's chat about the Wavy Blade quick. This blade adds a fun, decorative edge to your projects! It reminds me of when I had scalloped scissors as a kid -- it provides the same kind of look and feel. It simply adds a whimsical wavy decorative edge to projects! You can use it with paper, vinyl, iron-on, felt and tons of other materials. As you can see in this project, I used it to cut the edges of the paper. I could have simply cut a straight line, but I like the texture that it brings to this simple project. Here's what the new blade looks like -- and remember, you can only use this with the Cricut Maker:
DIY Paper Scroll
Now let's get to the project. This is actually a really simple project to make with your Cricut - it's basically just adding some vinyl to paper. 
Materials:
Wavy Blade (Maker only) or you can use a Fine-Point blade for a straight edge
Brown paper (I found mine in the office section at Target)
The first step to this project is to add your kraft paper to a LightGrip cutting mat. This paper is a little heavier than traditional paper which makes it perfect for this project. I found it in the office section at Target; I believe it is used for shipping. After you apply it to the mat, use a scraper tool to help burnish it in the mat.
If you're using a Cricut Maker and want to try out the Wavy Blade, then insert it now. But if you don't have the Maker or maybe you don't have the wavy blade yet -- then you can just simply cut it with the Fine-Point Blade.
Here's how my project looks in Design Space so you can get an idea of what I'm cutting. Basically, I just created a rectangle to size and then sized the words according. I wanted my rectangle to have enough room on each end so that I could roll the ends.
When your paper is finished cutting, then you'll put the Fine-Point Blade in and cut your vinyl. I also like to cut my vinyl on a LightGrip cutting mat. Once that's finished cutting, weed your vinyl and then apply it on transfer tape. Then apply the vinyl/transfer tape to your paper. Make sure to line it up straight and then use your scraper tool to burnish it well onto the paper. I like to start in the top left-hand or right-hand corner and then peel down from the corner slowly. You may have to use your scraper tool to help keep the letters down, which is why I love using the XL Scraper! I think it's a tool every Cricut crafter should have.
Once you have it entirely on your paper, use your scraper tool to lightly go over the words one last time to make sure everything is stuck well.
Then we are going to roll up the ends and apply hot glue to get them to stay. I did this by rolling up the end and then applying a paper clip on one side while I hot glued the other. I also used tweezers to press down on the hot glue while it was drying so that I didn't burn my fingers.
And then the last thing to do is the loop some twine or string through -- and there you have it! 
Happy making!
-Courteney
Related Posts
Cricut Maker Debossing Tip: Card
Cricut Maker Perforation Blade: Raffle Tickets
All About the Blades: Fine Point, Deep Point and Other Blades to Use with Your Cricut Machine