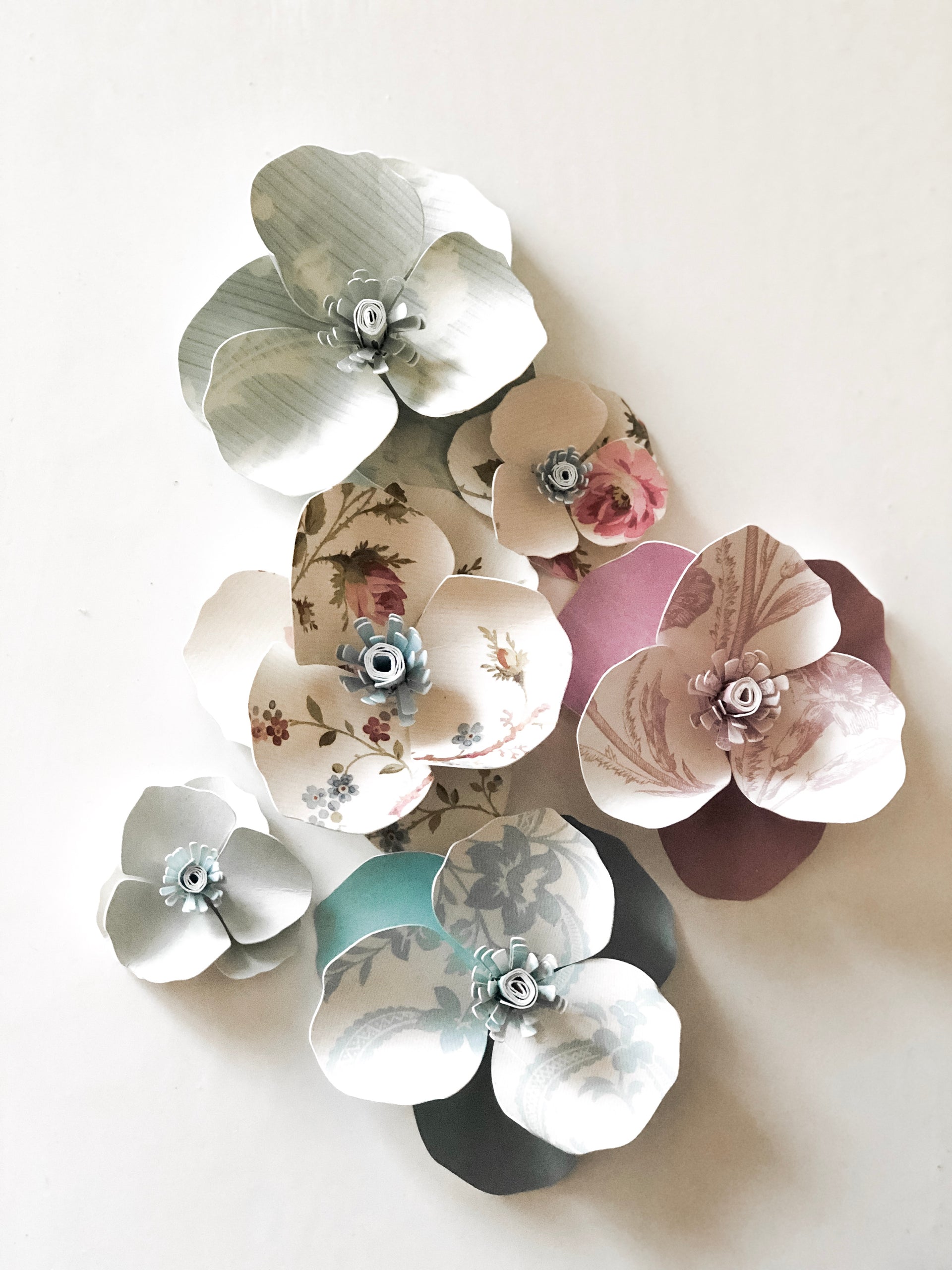 DIY Paper Poppy Flowers with Cricut
I don't know about you, but I'm not ready for the summer to be over just yet. One of my favorite parts of summer is going to farmers markets and getting fresh bouquet of flowers. It feels like the summer is dwindling away slowly, so I decided to make some paper poppy flowers to keep the summer feeling in my house as long as I can!
Materials:
Cricut Maker or Air

Hot glue

Pen or pencil (something to roll the petals)
To get started, apply your card stock paper to a LightGrip cutting mat. The design for the flowers came from Cricut Access. The ID for the poppy flower is #MA3E13. Once you've got the design inserted, then we are going to get cutting. I am just going to be cutting the petals and the pistils — not the leaves, so I hid that part on the canvas.
Apply your paper to a LightGrip cutting mat. I am using this beautiful paper pack from Cricut and Anna Griffin. I love how it has some vintagey vibes and I think it will look beautiful as paper flowers! I am going to use a few different patterns — but you can cut as many or as few as you want. Then get cutting!
When it's finished cutting, carefully remove the paper from the mat. Use a scraper tool or spatula tool to help you remove the paper. Or if you can flip the mat and let the mat bend while you carefully remove the paper, like below.
Next, we are going to create the petals. You will need to gently roll the metals with a pen, pencil or reusable straw like I'm using. You'll just need something that you can basically wrap the petal around and roll into -- like below. The smaller the tool you use, the tighter the roll with be on the petals. I tried to use something a little bigger because I just wanted a little flare.
When you're done rolling the petals, we will connect them with a small dab of hot glue. You'll be able to see from the photo below how I lined up the petals. I tried to stagger my paper too, so that a pattern was mixed with a solid. And some of them I did a pattern on pattern. Get as creative as you want with this!
Next, we will roll the pistil -- which if you're wondering is the long, skinny thing. This is going to be the middle of the flower! I am using my fingers to gently roll it together and then apply a small dab of hot glue at the end.
Then I am going to use a pen to help me "fan out" the pistils. I just want them to separate a little, but not too much.
Then when you're done with your pistils, we are going to connect it to the petals with some hot glue.
And there you have it! Told you it was simple. 😊 Don't forget that you can shop for all your Cricut & crafting needs on our website: www.craft-e-corner.com
Happy making!
-Courteney
Related Posts
Succulent Flower Favor Table Decor Using Cricut
Fall 3D Paper Flowers + Vinyl Mason Jar (Free SVG))