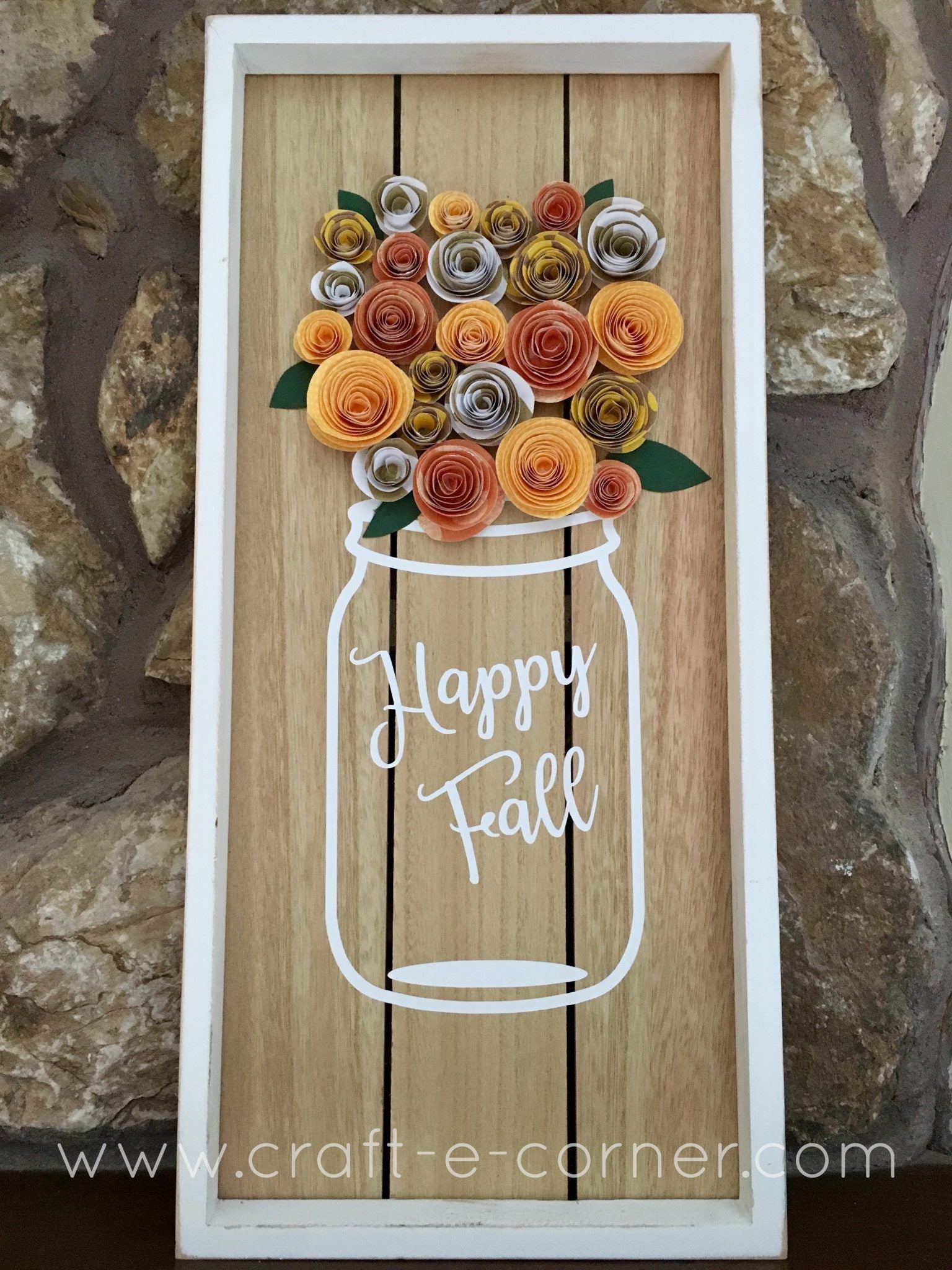 Fall 3D Paper Flowers + Vinyl Mason Jar (Free SVG))
Fall is coming close to an end, but I wanted to make a cute sign to have in the house as I don't have a lot of Fall decorations. I just got a Cricut Explore Air 2 so I thought I would start with something fairly simple and add a fun touch to it. Let's start with how to make the paper flowers.
Paper flowers are a fun and easy embellishment to make. I made these ones by hand but they could also easily be made with a die cutting machine. For this project I made 2", 4" and 6" sized circles. I started with just tracing anything circular I could find in the house in the sizes that I needed.
Then I cut the circle into a spiral and rounded the end of it.
Next I rolled the paper up into itself. After you roll it, you can let it loosen in your hands if you want the flower to be slightly larger.
Lastly, I used a hot glue gun on the bottom of the flowers to hold them together.
If you are using these separately you can also easily add leaves to them, but I will add leaves later on for this project.
Next I moved onto the vinyl part of the project. I wanted to make a mason jar/vase picture so first I found the wood frame that I wanted to use. I figured out the size I wanted the mason jar to be based on the size of the wood and how much room I would need to leave for the flowers.
While you can make your own designs right in Design Space, I am more familiar with Adobe Illustrator so that's where I made mine. I exported it as a PNG file and opened it in Design Space.
Free download of this file here.
Then I cut the project and weeded it. I cut away parts of the vinyl as I was weeding it to make it easier to not accidentally pull up any of the words.
Then I transferred it onto the wood using the scraper tool to make sure it was pressed down all the way.
Next I laid out the flowers in the approximate arrangement I wanted them to be.
Lastly I glued down the flowers with a hot glue gun and added leaves.
You could also use fake flowers for a different look or change up the wording and colors for all the different seasons!
Related Posts
DIY Paper Poppy Flowers with Cricut