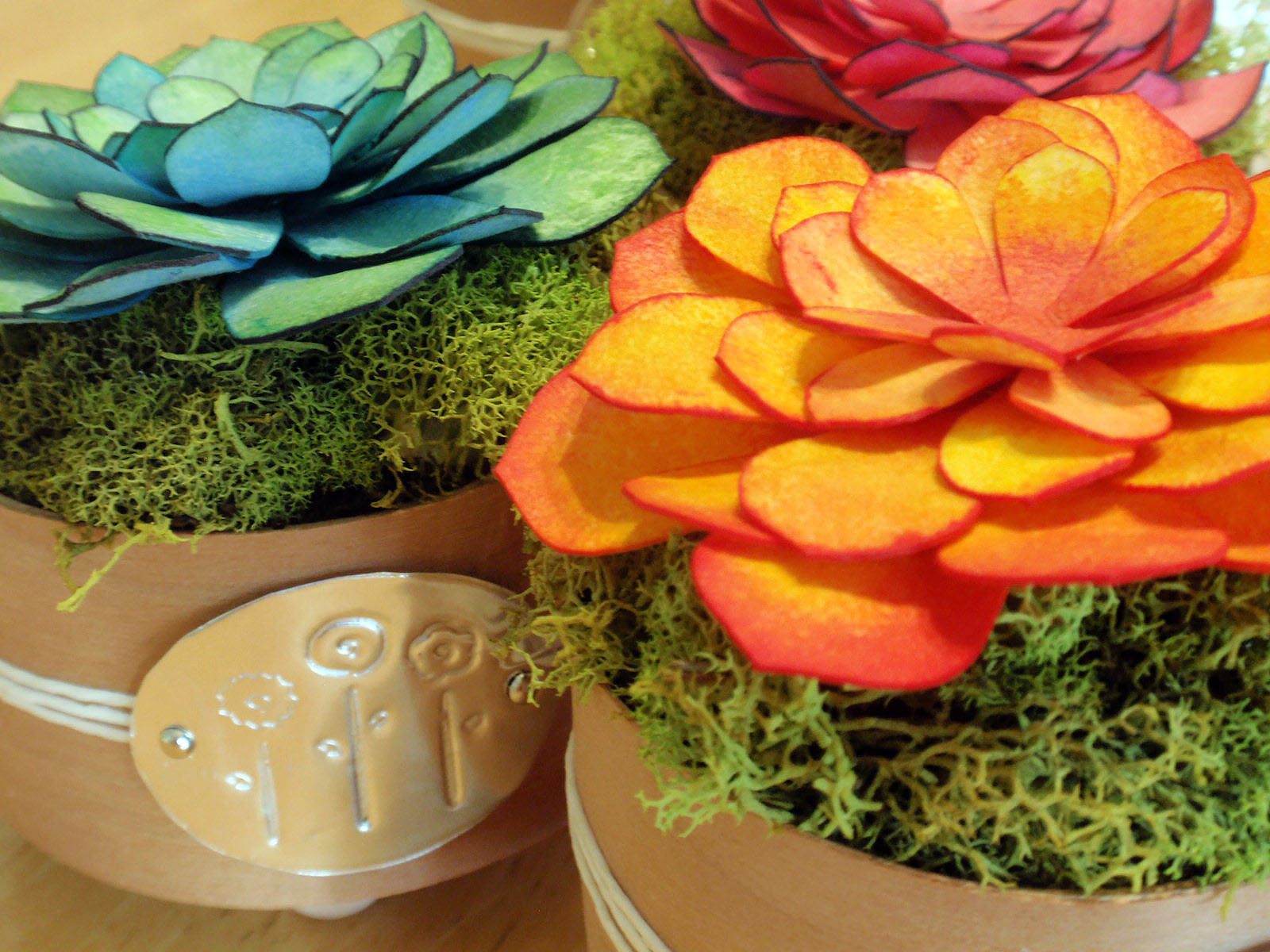 Succulent Flower Favor Table Decor Using Cricut
Let colorful succulent flower favors liven up the table decor at your next birthday or other fun celebration.  Natural wood veneer contrasts nicely with the light green moss and painted paper flowers. And did you know? Little tags cut from craft metal can be embossed using your Cricut scoring tool to personalize the favors for whatever your occasion.
 Materials:
Round paper mache box 2.87×1.5 inches
Wood veneer or corrugated cardstock (9×1.5 inches per favor)
Faux leather paper or other heavy paper
Round beads (3 per favor)
White glue and hot glue
Paints or inks
Moss
Aluminum craft sheet
Mini brads (optional)(2 per favor)
Hemp or other cord
Aluminum foil
Die cutting machine plus scoring tool
Directions:
Separate the lid from the rest of the box and save the lid for another project. Cover the outside of the bottom part of your paper mache box. I had some wood veneer left over from another project that I cut into 9×1.5-inch strips using a pair of heavy scissors.  Corrugated cardboard has a nice texture and would also work well for this project.
Glue the veneer to the box using white glue. Tape and clip the veneer in place and allow to dry.
Glue three wood beads in a triangular arrangement on the bottom of the box and allow to dry.
Create a simple tag design in Cricut Design Space.  Set the image to draw and make the project.  Use painter's tape to secure all the edges of thin craft aluminum to the cutting mat.  Use the scoring tool to emboss the aluminum.
Cut out the tag.  You can cut the tag with your machine after embossing if you're using a Cricut Maker, or you can use an ordinary pair of scissors.
Wrap cord around the box several times and knot in the back. Insert a couple of mini brads on the tag at the right and left edges (as shown in the photo) if desired.  Glue the tag to the box and allow to dry.
Make the succulent petals using this design from Cricut Access.  Size the largest petal at about 2.5-3 inches to fit the size of the paper mache box.
Cut the petals from faux leather paper.
Paint the petals using paint or ink in colors of your choice and allow to dry.
Assemble the succulent using hot glue.  Do not press the petals flat against one another, but instead leave some space between each layer.  The succulent should be about .5 – .75 inches tall when assembled.
Put a bit of hot glue at the bottom inside of the paper mache box and press a ball of foil into box.
Glue moss to cover the foil and glue a succulent flower on top.
Related Posts
DIY Paper Poppy Flowers with Cricut