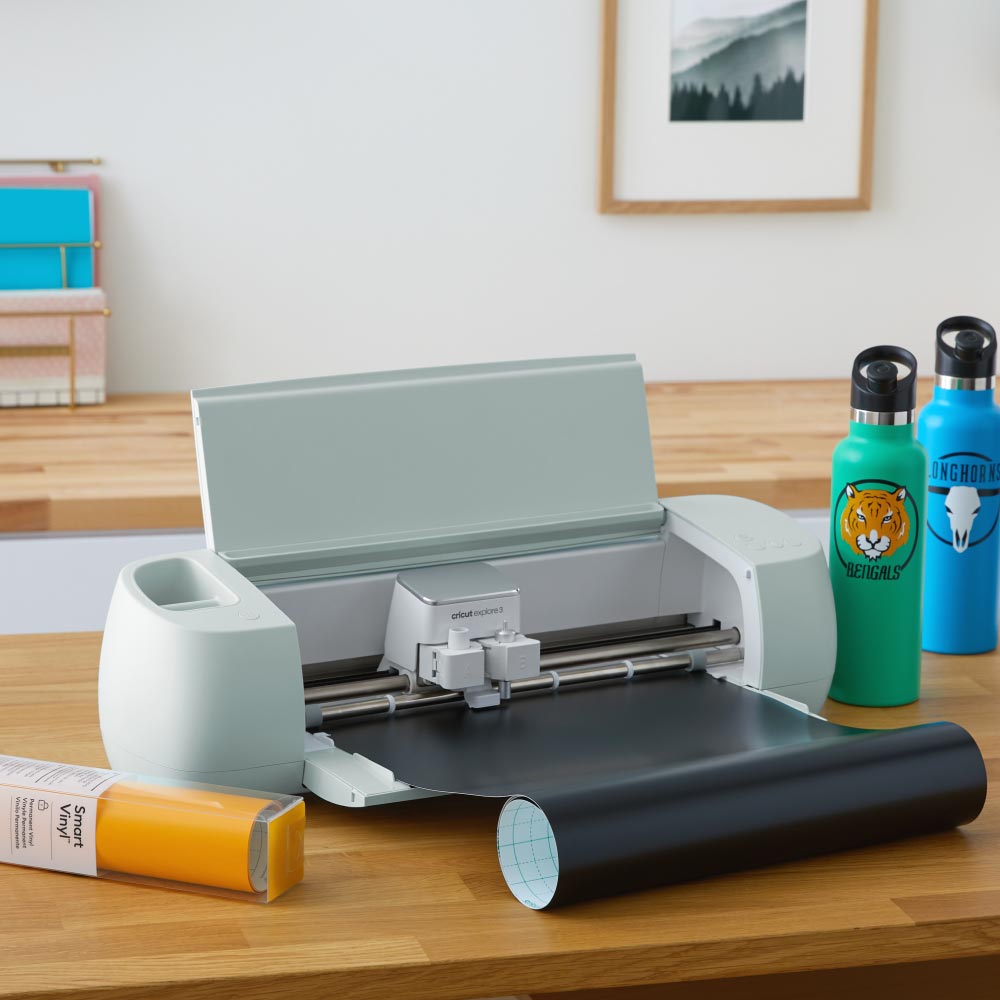 Everything You Need to Know About Cricut Smart Materials
With the launch of the new Cricut Explore 3 and Cricut Maker 3, you may have seen a lot of information regarding the new Smart Materials that are launching too. If you have never heard of Smart Materials before or if you're just wondering what they are, you've come to the right place! In this post, I'm going to break down everything you need to know about Smart Materials.
WHAT ARE SMART MATERIALS?
Smart Materials are clever crafting materials that work without a cutting mat, so you can just load the material directly into your machine and go! Smart Materials make crafting convenient and quick! This also allows you to create long cuts since you don't have to use a cutting mat. On the Cricut Joy, you can make individual cuts up to four feet long and repeated cuts up to 20 feet long. On the Cricut Explore 3 and Cricut Maker 3, you can create cuts up to 12 feet long.
WHICH MACHINES ARE COMPATIBLE WITH SMART MATERIALS?
There are three Cricut machines that are compatible with Smart Materials: Cricut Joy, Cricut Explore 3 and Cricut Maker 3.
WHAT KIND OF SMART MATERIALS ARE AVAILABLE?
Currently, there are three kinds of Smart Materials available: Smart Paper, Smart Iron-On, Smart Vinyl (in removable and permanent). All three of these materials will work with the Explore 3, Maker 3 and Joy machines. Let's take a closer look at each of these materials.
SMART PAPER
Smart Paper is essentially a sticker paper! With the Cricut Joy, there is Smart Label Writable Paper. For the Explore 3 and Maker 3, there is Smart Paper Sticker Cardstock. This material is a medium-weight card stock paper with an adhesive back. It's perfect for making stickers, cards, labels and so much more. Now you can skip the glue! Just cut, peel, and stick to create fun cards, bold banners, attractive posters and tons of other paper projects.
SMART VINYL
There are two kinds of Smart Vinyl available to use with your Explore 3, Maker 3 or Joy — permanent and vinyl. Both options are great for crafting, depending on what your project needs are. Smart Vinyl comes in a wide variety of colors, effects and material lengths. 
SMART IRON-ON
Smart Iron-On is another kind of Smart Material you can use with your Joy, Maker 3 or Explore 3. Iron-on is another name for Heat Transfer Vinyl. You can find tons of different colors, lengths and effects of Smart Iron-On. Check out this holographic effect — it changes as you turn it!
WHAT ARE THE BENEFITS OF USING SMART MATERIALS?
There are a few different benefits to Smart Materials. First, your designs are not confined to the size of your mat anymore. Previously, you could only make cuts that would fit on a 12x12" or 12x24" mat. If you wanted to make anything larger, you would have to cut it separately on multiple mats. In addition to this, it's quicker to craft since you can just load your material in your machine and hit go! You can also be assured that these are high-quality materials since they are created by Cricut to be used specifically with their machines.
HOW DO SMART MATERIALS WORK?
You might be wondering, "Can I just load any material into my Cricut Joy, Explore 3 or Maker 3 and cut it without a mat?" The answer is no, you can only cut Smart Materials without a cutting mat. Smart Materials come adhered to a special backer that can feed through the machines without the need for a cutting mat. The software will prompt you when it's time to load your Smart Materials and will tell you how much you need. Once material is loaded, your machine will measure it to ensure there's enough for your project.
WHAT DO I DO WITH LEFTOVER SCRAPS OF SMART MATERIALS?
It's important to keep in mind that when you're working with Smart Materials on the Cricut Joy, the Smart Materials need to be at least four inches in length to feed through the machine without a mat. If you're working with the Explore 3 or Maker 3, they need to be at least six inches in length. If you end up having scraps shorter than these amounts, you can place your Smart Materials on a cutting mat. I'd recommend waiting to trim your material until your cut is complete so that you can save the most amount of material possible!
Smart Materials not only make crafting convenient but they open the door to tons of new possibilities for what you can make. Have you tried using Smart Materials yet? Let us know in the comments below! Don't forget to stop by Craft-e-Corner on June 10 to get your Cricut Maker 3 or Cricut Explore 3.
Related Posts
6 Cricut Smart Material Projects for Maker 3 & Explore 3