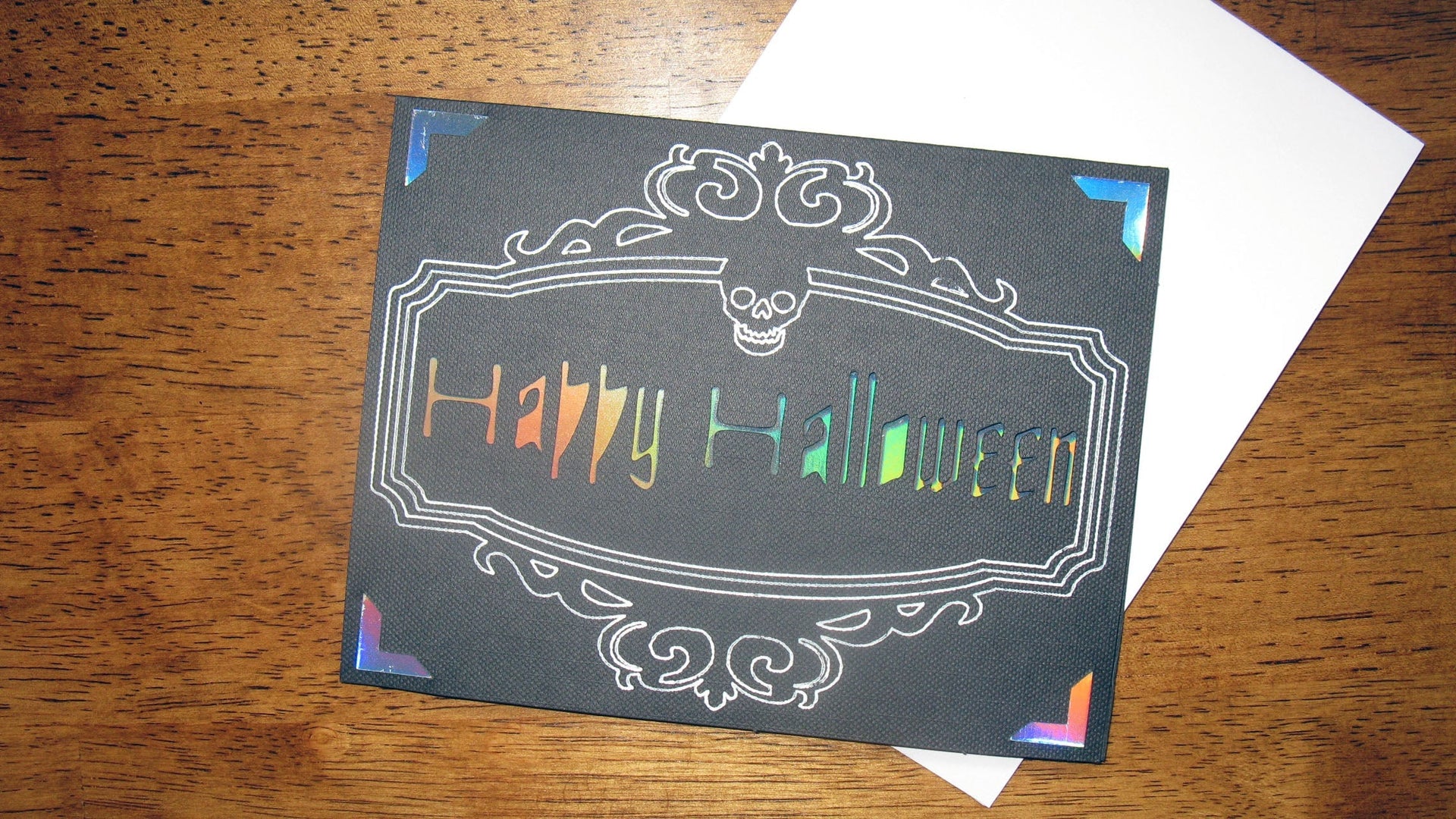 Halloween Insert Cards Using Cricut Opaque Pens
With the spooky season just around the corner, it's time to get creative and embrace the darkness. In this post, we'll introduce you to a fantastic tool that will take your Halloween card making to the next level: Cricut Opaque Gel Pens. These magical pens are specially designed to show up vividly on dark colored paper, making them absolutely perfect for adding eerie and eye-catching details to your Halloween creations. Get ready to unleash your creativity and discover how these opaque pens can bring your Halloween cards to life!
Materials:
You can purchase these new opaque pens in sizes to fit both Cricut full-size machines (Maker and Explore series) and the Cricut Joy. Opaque Gel Pens have a medium tip (1.0mm) and come in pink, white, yellow, orange and blue. The pens are water-based but permanent when dry.
Cricut Opaque Gel Pens 1.0 mm, Pink, White, Orange, Yellow, Blue
Cricut Joy Opaque Gel Pens 1.0 mm Pink, White, Orange
Cricut Joy Opaque Gel Pens 1.0 mm Yellow, White, Blue
Directions:
Open Cricut Design Space on your computer or mobile device and create a new project. Select a Halloween-themed card design from the available options or create your own by using various shapes, images, and text tools. Customize the design to your liking, adjusting sizes, colors, and text as desired. Make sure the design fits within the dimensions of your Cricut Insert Cards.
Go to this project in Cricut Design Space.
Load the Cricut 2x2 Card Mat with the Cricut Insert Card. Make sure the card is properly aligned and secure. 
Make the project. I love how well these new opaque pens show up on the black paper!
Carefully remove the cut-out design from the Cricut 2x2 Card Mat. Use a weeder tool or spatula to help remove the paper without damaging any delicate elements. Add the insert - et viola!
With the help of Cricut Insert Cards, Cricut 2x2 Card Mat, and Cricut Opaque Gel Pens, you can create unique and personalized Halloween cards to share with your family and friends. The opaque pens' ability to show up on dark colored paper adds an extra element of intrigue and spookiness to your designs. Whether you're crafting haunted house scenes, creepy creatures, or wickedly witty phrases, these pens will bring your vision to life. Get creative with your designs and enjoy the process of making these delightful cards. Happy Halloween Making!
Get your shine on!
Check out more Halloween projects from our blog that S-H-I-N-E with Halloween magic.
Learn how to create a unique and spooky t-shirt inspired by the iconic Addams Family character, Wednesday. In this blog post, we guide you through the process of using Cricut Reflective Iron-On and other materials to recreate the eerie spider web window featured in the Netflix show "Wednesday." Discover how to design, cut, and apply the reflective iron-on vinyl to achieve a hauntingly beautiful effect on a plain black shirt.
Create stunning glow-in-the-dark tumblers with Cricut's Glow-in-the-Dark Vinyl. In this blog post, we share our step-by-step process of using Cricut Maker 3 to cut and apply the vinyl onto black tumblers. Learn how to measure the cup, create a design box in Design Space, and use transfer tape for precise placement of the images. We'll guide you through the process of weeding and applying the ghosts, purple bats, and stars onto the cups, resulting in a simple yet impressive project.
Create a magical surprise for your kids with Glow in the Dark Iron-On Vinyl from Cricut. In this blog post, we share how to make a glow-in-the-dark skeleton shirt that's perfect for Halloween or any other occasion. Discover the simple steps of cutting, weeding, and applying the Glow in the Dark Iron-On Vinyl using your Cricut machine and Easy Press. With this fun and easy-to-work-with vinyl, you can create designs that shine bright in the dark, delighting your kids and sparking your creativity.