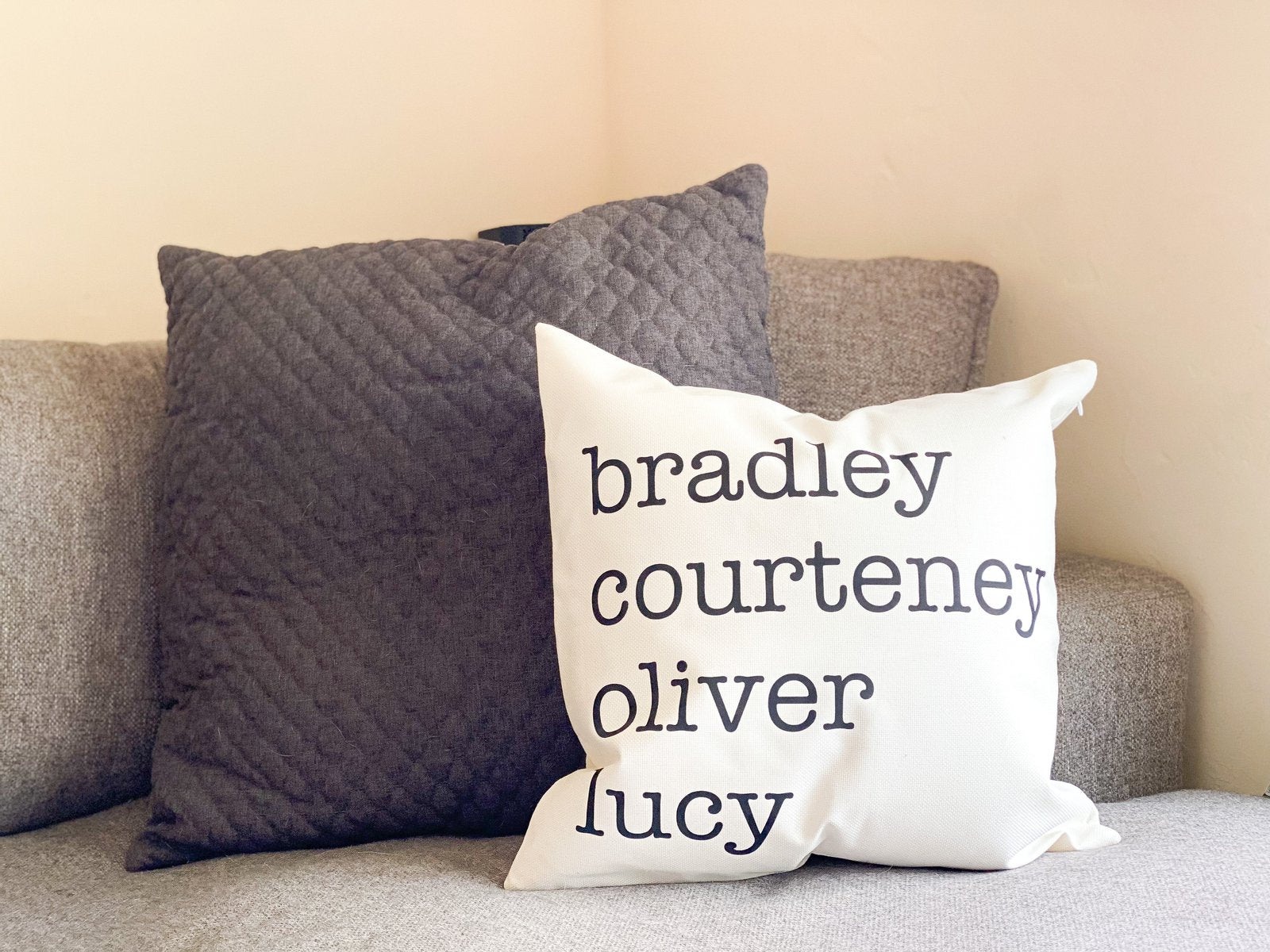 Make a Custom Pillowcase with Cricut Smart Iron-On
One of my favorite materials to craft with is iron-on vinyl. And now, thanks to Smart Materials, we have Smart Iron-On — which means we can cut our iron-on without a cutting mat! In this project today, I'm going to show you how to use Smart Iron-On to make a custom pillowcase. I'll be using the names of my family but you could customize this to say anything.
Note: If you do not have a Cricut Explore 3 or Maker 3, you can still make this project — just use regular iron-on vinyl.
Materials:
EasyPress Mat (or a folded towel)
18x18" Pillowcase
Lint Roller (optional - I just used this to clean my pillowcase first)
 Check out our video tutorial here or scroll down to view the written tutorial.

Step One: Create Your Design
This is what my design looks like for my pillowcase. I started by adding text to the canvas and then typed out our names and adjusted the text to the left. I used the text "American Typewriter", which was downloaded on my computer. Then I added a square onto the canvas that was the size of my pillowcase (18x18"). From there, I used the template to size my names accordingly. Once you've got the text sized correctly, you can hide or delete the square.
Step Two: Prepare Artwork
After you click on "Make It", Design Space will ask how you are going to load your materials. Since we are working without a cutting mat, we can select "Without Mat" and click on done. This is one of the best parts about working with Smart Iron-On — no cutting mat needed, just load and go!
Next, mirror your image. You can see this on the left-hand side of the screen — you'll want to click the button under "Mirror". When it's selected, the button will turn green like you see above. Then click on "Continue" and select "Smart Iron-On" as your cutting setting.
Step Three: Cut Your Smart Iron-On
The first thing that we are going to do is load our Smart Iron-On into the machine. Place your iron-on with the shiny side down and the dull/matte side up. Insert the Smart Iron-On into the machine by sliding it along the left guide and under the white guides. Then push it up against the roller and hit the flashing "Load/Unload" button to load it in. Your Cricut will start by pulling the material through to align it and make sure you have enough material. When it's ready to cut, hit the flashing "Go" button. Unload it when it's finished.
Step Four: Weed Your Smart Iron-On
Using a weeder tool, remove the excess iron-on from around your design and inside of the design. You'll be removing the vinyl from the side you cut on, which is the matte/dull side. Make sure you don't pierce through the transparent carrier sheet — just simply remove the iron-on.
Step Five: Transfer Your Iron-On to the Pillowcase Using an EasyPress
I will be using an EasyPress to transfer my Iron-On to the pillowcase. You can determine your EasyPress settings by using Cricut's Heat Guide here. We'll get started by heating up the EasyPress to 315F and the timer at 30 seconds. While that's heating up, place the EasyPress mat inside of the pillowcase. If you don't have a mat, you can use a towel. My design is larger than my EasyPress, so I am going to work in three different sections to cover the entire design.
We'll get started by preheating the pillowcase for five seconds — make sure you cover everywhere that your design is going to go. Once it's preheated, we'll go ahead and apply our design onto the pillowcase. I'm going to apply heat resistant tape around the design to help hold it in place, but this is optional. Then apply the EasyPress to your first section and press for 30 seconds with light pressure. Repeat for the next two sections. When you're finished, flip your pillowcase over (make sure to flip your EasyPress mat, too) and press the back (in each section) for 15 seconds each. Then remove your liner when it's cool to the touch.
What do you think? I might have to make a few more of these when Christmas rolls around — I think they would make great gifts. Happy crafting!
-Courteney
Related Posts
Make This Super Soft Pom Pom Rug & Keep Your Toes Happy on Cold Nights
Dress Up A Window and Add Privacy Using Window Cling