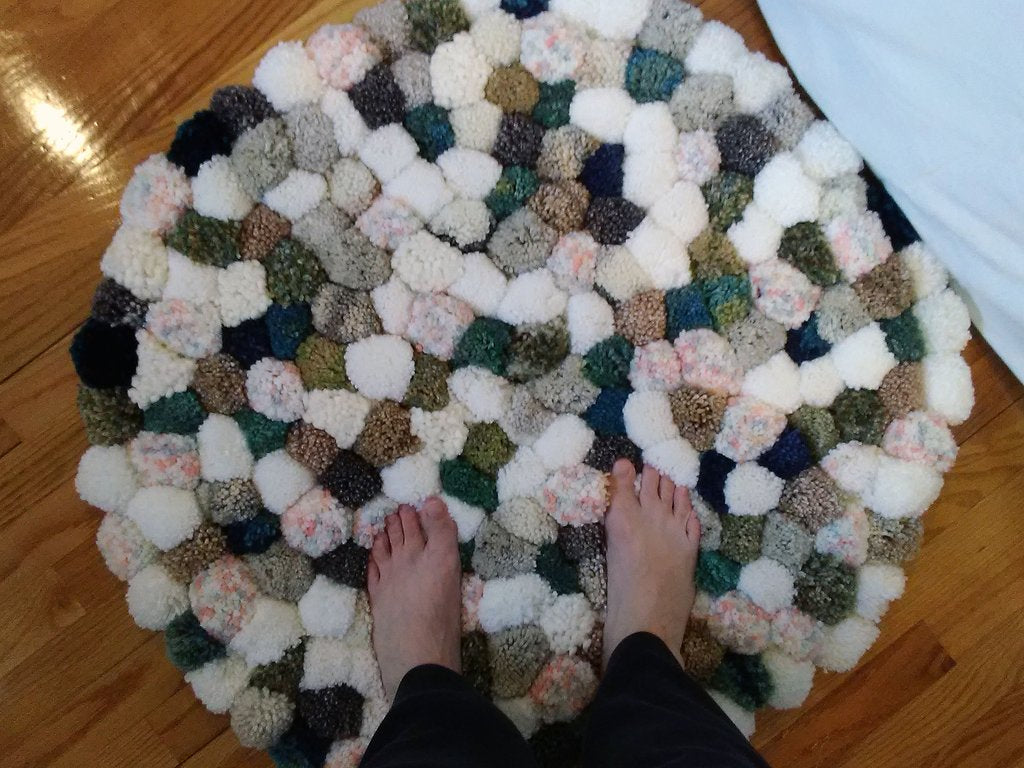 Super Soft Pom Pom Rug to Keep Your Toes Happy on Cold Nights
This extra fluffy pom pom rug makes a nice accent for a bedroom and is SO soft underfoot!  The pom poms do take some time to make, but they work up easily using a pom pom maker in your favorite colors.
Materials:
Acrylic yarn in your choice of colors
Clover pom pom maker, 3 3/8 inch
Rug backing
Waxed thread
Latex rug backing
Directions:
Cut a piece of rug backing to your size and shape. I decided to create a round rug about 4' in diameter.
Make a WHOLE LOT :) of pom poms using a 3 3/8 inch Clover pom pom maker following the manufacturer's instructions.  I suggest tying off each of your pom poms using waxed thread because it is sturdy and allows for snug knots. Be sure to leave long tails after tying the pom poms to make it easy to attach them to the rug backing later.
Obviously, the number of pom poms needed will depend on the size rug you choose to make. Periodically, I laid out completed pom poms on my rug backing to assess the total number of pom poms required for the finished rug. Eventually, I filled up a couple of grocery sacks with pom poms needed for my 4 foot rug.
Tie each pom pom to the rug backing about 2 inches apart  and trim the excess waxed thread.
Repeat until the rug backing is almost covered with pom poms, leaving about 1-2 inches of rug backing around the edges of the rug.
Paint the back of the rug  using several coats of latex rug backing and allow to dry. 
Trim the rug backing close to the edge of the latex so that the rug back is not visible from the front of the rug.
Related Posts
Make a Custom Pillowcase with Cricut Smart Iron-On
Dress Up A Window and Add Privacy Using Window Cling