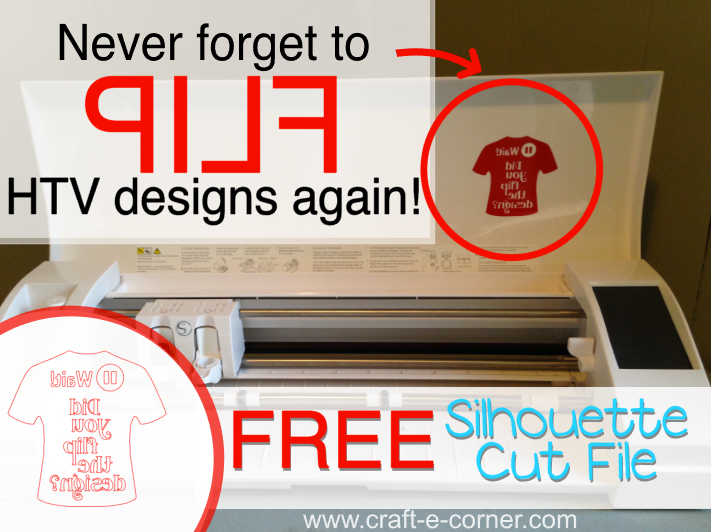 Never Forget to Flip Your Heat Transfer Design! Here's how…
Heat transfer vinyl comes on a carrier sheet.  The right side of the vinyl touches the carrier sheet and the adhesive for the vinyl is face up.  When cutting heat transfer vinyl, load the vinyl so the dull side is up.  Since you are looking at the design from behind, you'll need to flip your design before you cut.  Forgetting to flip your design can result in wasted heat transfer, which is a total bummer!  It's entirely too easy to forget to flip, so to remind myself, I created a decal for my Silhouette Cameo machine.
This cut file is free for your to download, see below for the link to get yours!
When you open the file, you'll see this:
The file is a shirt with the words: Wait! Did you flip your design? written backwards.  I thought a shirt was perfect sinceI usually think of heat transfer vinyl going on a shirt.  If you're brand new to Heat Transfer Vinyl, read more about it here.
I cut the design on a small scrap of regular red adhesive backed vinyl that I had left over from another project: 
If you are brand new to working with regular vinyl, check out Vinyl 101: The Very Basics of Vinyl
Next, I loaded the cutting mat into my machine, lining it up with the blue line on the side:
After I cut the design, I removed the excess vinyl (weeded) the design:
Once it was completely weeded, I was left with just the design on the backing sheet.  Using a piece of transfer paper, I removed the design from the backing sheet and found a place for it on the inside lid of my machine (so I will see it every time I open the machine to load my projects):
I removed the transfer paper and now I have a reminder!
Hope this helps you!