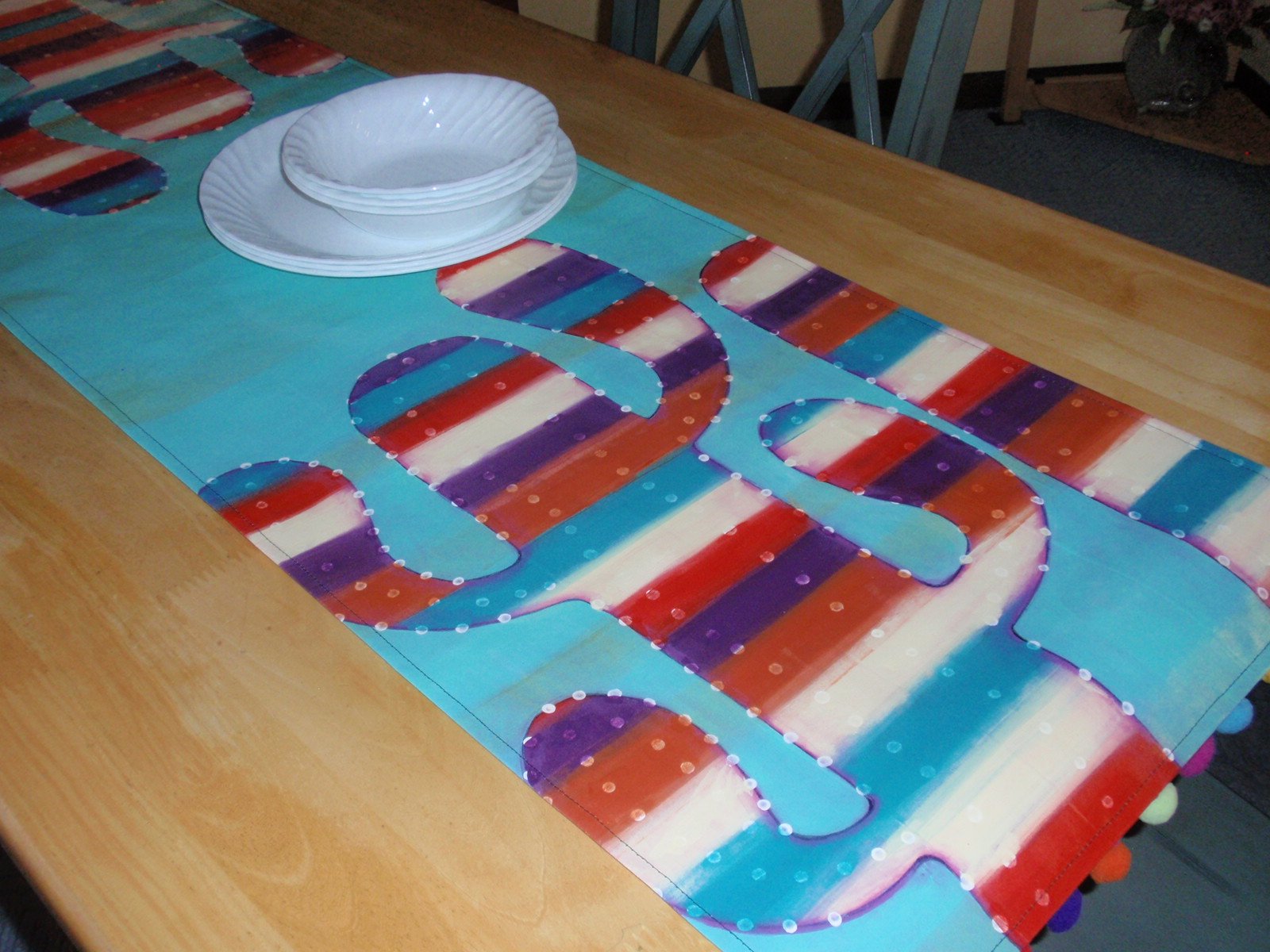 Painted Cactus Table Runner: Easy Southwestern Stripes
Southwest-inspired stripes provide the background for this colorful painted table runner.  Leave the edges of the fabric runner raw, or hem and embellish them to suit your décor.  Cinco de Mayo, here you come!
Supplies:
Acrylic paint
Heavy fabric, white with smooth weave
Varnish
Trim embellishments (optional)
Directions:
Select a heavy, light-colored fabric with a smooth weave.  Determine the finished size of your runner and cut the fabric to approximate size.  Apply one or 2 coats of gesso to prime the fabric.
Paint stripes along the length of the fabric using acrylic paint colors of your choice.  The project sample uses red, cream, terra cotta, teal, and purple.  Allow the colors to blend a bit where the stripes intersect.  Allow to dry.
Sketch cactus shapes on both ends of the runner.
Paint the background outside your cactus using a solid color acrylic paint.
Shade the edges of each cactus using a dark color paint.
Apply dots of white paint using a cotton swab.  Place dots along the edge of each cactus and in a few casual lines on the interior of the shapes.
If desired, tone down the white paint by painting over some of the dots using a color that matches the underlying stripe.
Apply a thin protective coat of varnish, completely covering the runner.  Allow to dry. Use the runner on your table "as is,"  or choose to hem the edges or embellish them with decorative trim.
Related Posts
Creative Collage Papers using Easy Marble Paints
Floral Deer Collage: Make It Using Cricut Print Then Cut