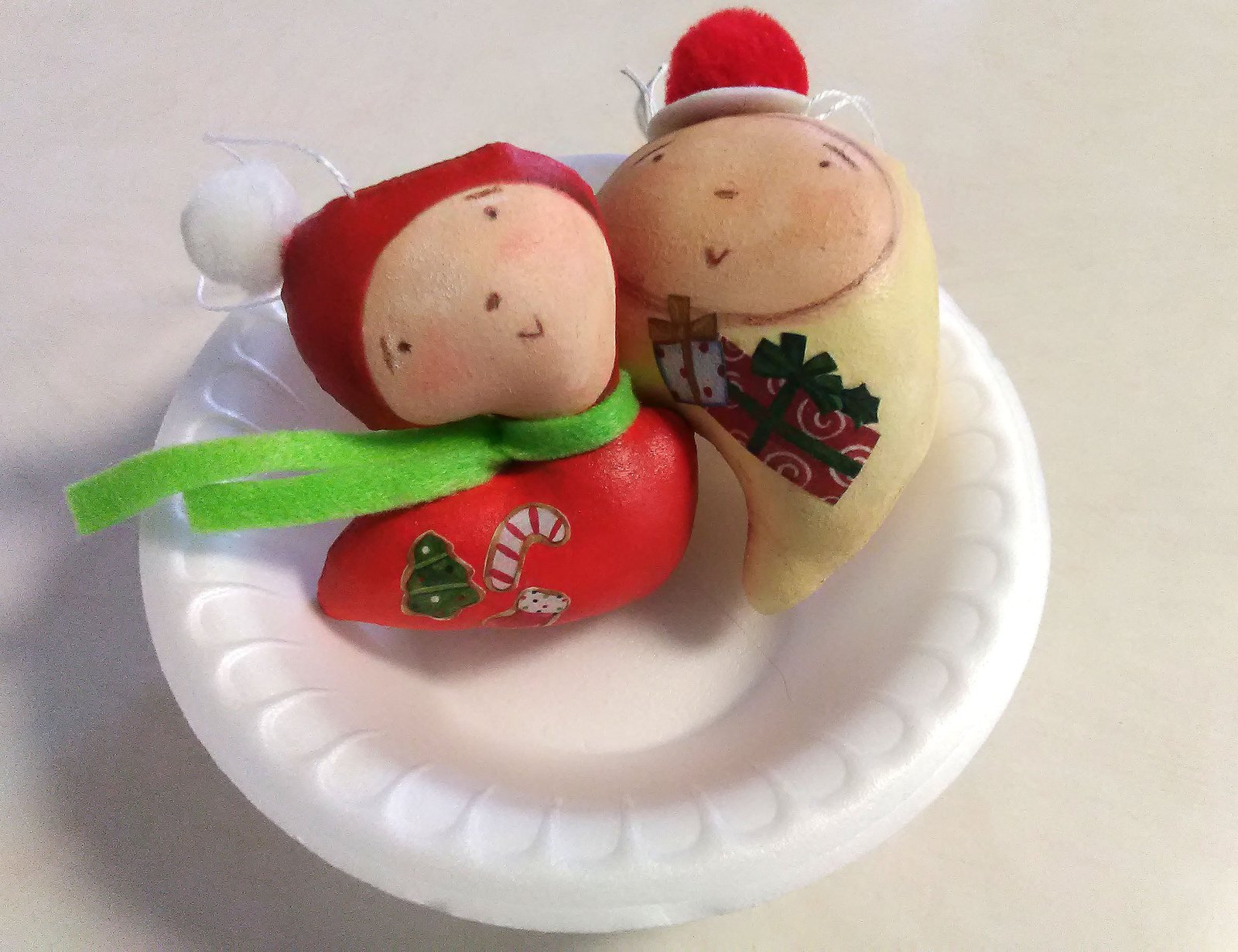 Stuffy Doll Christmas Ornament
Materials:
Muslin fabric
Fiberfill
Gesso (optional)
Acrylic craft paint
Decoupage glue
Sewing needle and thread
Assorted embellishments
Floss or thread for hanging
Directions:
Sketch a simple face and torso on a piece of scrap paper.
Trace the outline of a doll onto a piece of muslin using a pencil.
Cut a second piece of muslin, the same size at the first.  Pin the two pieces together and stitch through both pieces along the pencil line. 
Trim the excess fabric close to the stitching line. Cut a 2-3 inch slit in the back of the doll. Take care to cut through only ONE layer.
Turn the doll right side out through the slit cut in the back. Stuff the doll firmly using fiberfill.  A dowel or stick is a handy tool for pushing the fiberfill into small spaces. Stitch the opening closed.
If you'd like, base coat the doll using a generous amount of gesso and allow to dry.  Paint the dolls using acrylic craft paint in your choice of colors. Allow to dry.
Shade around the face and edges of the doll using brown paint thinned with a bit of water. Or apply the brown paint all over for a primitive look.
Add details using paint, pens or collage. Use whatever you have on hand to give your doll some holiday personality.
Use a large needle and embroidery thread to attach a hanger to the top of the doll.
Related Posts
Balsa Wood Tree Ornaments Using Your Cricut
Christmas in July - DIY wood ornaments with Cricut + bonus snow globe