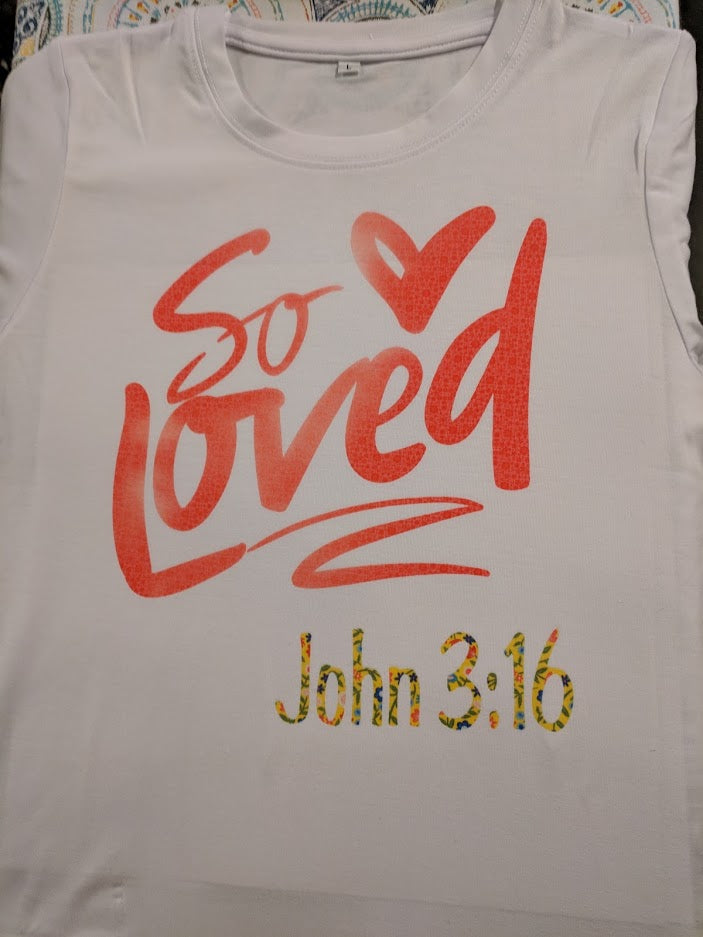 Cricut Infusible Ink T-shirt - So Loved!
Celebrating Easter can be done in so many ways.  Yet recognizing the meaning of the Christian celebration, God's Love for you, can be seen in this shirt I created for my daughter with Cricut Infusible Ink Transfer Sheets.
I enjoyed how Cricut put coordinated colors in one box of materials with their Infusible Ink Patterned Transfer Sheets.  For this project I used the Wildflower Patterns Transfer Sheets.  Did you know that when heat is applied to this product it transfers the color through a chemical process, which is why it only sticks to certain materials?  The sheets come in black wrapping to protect them from fading or damage to the ink.  If you don't use all colors, return them to the packaging for later use. 
 Cricut Design Layout - T-shirt Template
I chose to use a template of a t-shirt that is pre-designed to help me figure out the sizing of my final design with both measurements and through the computer screen.  These can be found in the Canvas Screen on the left side. The great function of using a template is for positioning and then when it is time to cut you don't have to remember to remove the preset template, it won't cut.
I was able to position both images on the t-shirt to see how it would look when complete.
 Infusible Ink Side Up for Cutting
I use the online Cricut Heat Guide to determine what settings to use when applying the material to different t-shirts, bags, pillows or more.
Easy Press Application Instructions
Preheat Cricut EasyPress 2 to 385°F
Place t-shirt on a clean mat
Insert cardstock inside the t-shirt to prevent bleed-through
Lint roll t-shirt
Cover t-shirt with butcher paper larger than heat plate
Preheat t-shirt for 15 s
Remove butcher paper from the top of the t-shirt
I'm excited to see what other t-shirts we will be making after the excitement of this shirt. 
Have you tried Infusible Ink Transfer Pattern Sheets yet?
Check out all of the options here:  Cricut Infusible Ink Transfer Pattern Sheets
Carrie
Related Posts
Mommy and Me Shoes DIY Using Cricut EasyPress Mini
Cricut Infusible Ink T-shirt - So Loved!