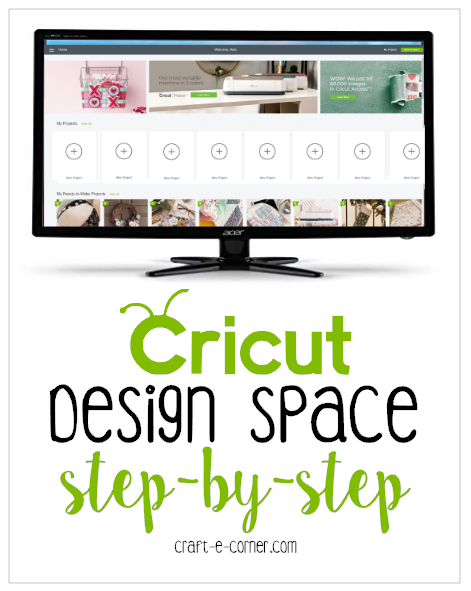 Getting to Know Cricut Design Space (Part 1)
Design Space is the program that you will use to make files and projects that you can create with your Cricut machine.
There's lots to learn, let me give you a grand tour so you can get started creating with your new machine!
To access Design Space, go to https://design.cricut.com/#/sign-in and sign in. If you do not already have an account, take the steps to set one up (see "How to Create a Cricut Design Space Account").
TIP: If you are on a shared computer, uncheck the "Remember Me" box before clicking sign in.
Once you are logged in, you will be taken to the Home page. The Home page is dynamic and changes periodically with new designs and seasonal projects.
The Home page can be divided into four sections:
SECTION 1: Header
The header has the hamburger menu (a), a page title to indicate where you are currently located (in this case, we are on the Home page) (b), a welcome message you can check to ensure you're signed in to your account correctly (c), a shortcut link to your projects to open a project you've recently saved (d) and the "New Project" button for fast access to the Canvas to start a new project (e).
HOME
Home will bring you back to the Home page.
CANVAS
Canvas will take you to the Design Space Canvas.  This is the where you create your designs:
CALIBRATION
Calibration will give you steps on how to properly calibrate the Rotary Blade (Maker), Knife Blade (Maker) or Print Then Cut Designs (Explore Air 2 and Maker):
MANAGE CUSTOM MATERIALS
Add your own custom material settings here. This is great for your favorite paper, or vinyl that doesn't cut quite right under standard settings.
UPDATE FIRMWARE
Update Firmware will check to see if you need to update the firmware on your machine. Follow the prompts as needed to update your firmware if necessary. Note: you likely will not need to update the firmware frequently, but you should check periodically.
ACCOUNT DETAILS
Account Details will give you an account overview that you can edit and update as necessary. Make sure to keep your account up to date. Update your email address, name, shipping & billing address and sign up for the Cricut newsletter.
LINK CARTRIDGES
Link Cartridges will walk you through steps on how to link a cartridge to your Design Space account. If you have physical Cricut cartridges that you want to use with your Explore Air 2 machine, you can click here to link them with Design Space. If you have a Cricut Maker machine, you'll need a cartridge adapter. See
Using, Linking and Accessing Cricut Cartridges in Cricut Design Space
CRICUT ACCESS
Click here to manage your Cricut Access account. Cricut Access is a subscription service that allows you unlimited access to 50,000+ images, 1000's of projects and fonts. There are three different levels to choose from. Each level can be paid for on a monthly or yearly subscription (the yearly having a lower rate over monthly payments).
SETTINGS
Change your settings for the canvas grid and unit measurements here.
LEGAL
All sites have fine print, Terms of Use, Terms & Conditions, Cricut is a little tongue in cheek with it.
Under the Legal page, you'll find the website Terms of Use, Terms & Conditions, Angel Policy, Privacy Policy, End-User License Agreement(s) (EULA), Claims of Infringement, Submissions Agreement, Patents, Online Policies.
NEW FEATURES
Check this out periodically as new exciting features may have been released recently, click here for details.
UNITED STATES (COUNTRY)
Select your country from the United States, Canada or the United Kingdom. This helps Cricut know their customer base. If you are outside of the countries listed in the drop down, you can select a random country or just use the United States as that is where the machine came from.
HELP
If you're stuck or just looking for more information on a topic, the Help page can assist you in finding what you are looking for.  Search by your topic or click on topics to help narrow down your search. Let's say you are interested in cutting leather. Search  "Leather" in the search box and articles will pop up with helpful information.
SIGN OUT
When you are done working in Design Space, it is recommended that you Sign Out if you are not on a private computer.  If no one else is on your computer, you can stay signed in!
FEEDBACK
If you'd like to send Cricut some feedback on your experience with your machine or software, drop Cricut a note through the feedback option. Fill out the simple form and check the box if you'd like to receive updates. You may also add attachments, if desired.
Related Posts
How to Weld Text and Images in Cricut's Design Space
How to Use Contour Feature in Cricut Design Space