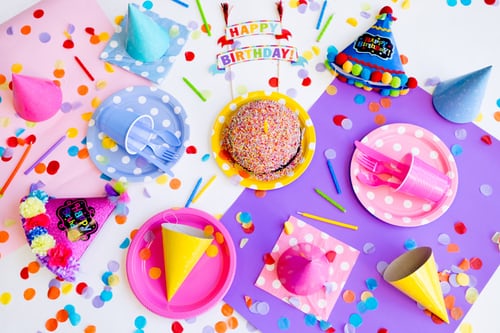 15 DIY Birthday Celebration Craft Projects
Planning a birthday party soon? Check out these fun birthday craft projects, most of which use a Cricut die cutting machine. Make it special with party favors, home decorations, unique gift wrapping, birthday cards, gifts and even clothing or wearable art. There is something for everyone. Birthdays are not just for kids. That's my story, and I'm sticking to it.
CRICUT BEGINNER PROJECT: CELEBRATION CARD
Here is a cute card you can make for someone's birthday or any other event. It's nice to have one that doesn't specifically say "birthday," making it versatile as well as simple to create. It certainly looks celebratory, and a beginner can do it. Bonus!
CRICUT BIRTHDAY BANNER WITH HOLOGRAPHIC IRON-ON ON FELT
I love the idea of making your own party decorations. Not only are they more special than store-bought, but you can reuse them. And I would bet they won't get tangled up as much in storage. This banner is cute, shiny, and easily customizable for individual birthdays or other events. Just string them on some yarn or a cord and hang them up before party time.
CRICUT INFUSIBLE INK KID'S T-SHIRT
Every child needs a special T-shirt for their birthday, don't they? I used to go all out for my kids' birthdays and tried to make it as memorable as possible. I liked having a day that was special just to them, so I could make a big deal out of them and make them feel loved. I didn't know how to make T-shirts at the time, but this would have been a great way to make their day even more special.
CRICUT FROZEN BIRTHDAY PARTY DIY PAPER DECORATIONS
Do you do theme parties for your children's birthdays? So many children enjoy the Frozen movies, including my youngest granddaughter. I know she would love a 'frosty' party based on the show. These table decorations are perfectly 'arctic', and you can make a 'chilly' banner to go with them. These are both so 'cool'. A little over the top? Maybe, but I like to have fun.
SCRAP PAPER CANDLE BIRTHDAY CARD
Okay, I'm going to switch it up a bit and go from children to grandparents. This handmade birthday card is completely adorable and would be fun for the one blowing out the real candles, that is, if they still can. It's so colorful, and the accordion folding makes it unique. What a great way to use up paper scraps from other projects.
PHOTO TRANSFER BIRTHDAY PRESENT PROJECT
Here is an actual gift you can make, and it's so creative! The distressed look is so popular now and gives these photos a completely new look. Hang these up instead of using regular frames. I don't know anyone who wouldn't love a gift like this. 
FELT & PAPER PINWHEEL PROJECT TUTORIAL
Pinwheels are a perfect party accessory, and kids seem to like them, too. Making them with felt is a great idea and will make them a little more sturdy. You could make small ones and stick them on top of a cake with a straw or dowel to decorate it. You could make a bunch and string them to hang on the wall, use them as a bow on a wrapped gift, or use them as party favors for kids. Use your imagination, and I'm sure you can come up with more great ways to incorporate them into a birthday celebration.
PENGUINS, POLKA DOTS & TONS OF FUN - PENNANT WREATH
This little pennant wreath is one of the cutest things I've seen! What an awesome way to showcase the age of the birthday girl or boy. You can use their favorite colors or whatever goes with your theme. I would like to make one for girls and one for boys and use them for every birthday party, just changing out the age in the middle each time. Wouldn't adults just love having their age broadcast at their party? Maybe I'll have to come up with something else to put in the center for them.
CRICUT HOLOGRAPHIC IRON ON - GOLDEN BIRTHDAY T-SHIRT
Here's another birthday T-shirt to make, but this one uses holographic iron-on and focuses on a golden birthday. What a great idea! It occurred to me that we only have a golden birthday between the ages of 1 and 31, and I believe anyone in that age range would enjoy a T-shirt made in their honor. Well, maybe not a 1-year-old, but they sure would look cute in one.
SUCCULENT FLOWER FAVOR: COLORFUL TABLE DECOR FOR YOUR NEXT CELEBRATION USING YOUR CRICUT
I love this idea, and these are the perfect plants for me - ones I can't kill! You can make them in whatever colors go with your theme. These could be used for other occasions besides birthdays, too. Maybe I'll make some to place around my house all the time to give it some life.
DIY MINION GIFT BAGS IN 5 EASY STEPS
Don't laugh at me, but I love minions! They are just the cutest thing ever. I know children love them, too. These little gift bags are perfect for giving a gift to a little minion fan. I think they would also work great as party favor bags. You could use smaller bags and decrease the decoration size accordingly. This makes me want to give someone a party. Maybe even me!
TATTOO IT! SILHOUETTE TATTOO PAPER PROJECTS
Kids love tattoos! What a fun activity this would be for a child's birthday party. You could have one design for all the children or have several for them to choose from. They would probably remember that party for quite some time. The tattoo paper is made by Silhouette, but it can be used in any die cutting machine.
HOW TO MAKE CUSTOM RIBBON WITH IRON-ON AND A CRICUT
What a wonderful way to present a gift to someone special. How many people get gifts with a personal message imprinted on the ribbon? I know I've never received one. If you want to show someone they are worth a little extra effort, this might just be the way to do it.
If you like to go all out for birthday parties, this would be a great project for you. You can make your own drinking straws to match your party theme or decor. Children would especially love this. I think birthday parties for them are the most fun. Attach a special message to each straw and waterproof them using beeswax.
POM POM AND PAPER BEAD GARLAND FOR SPRING DECORATING
Pom poms are so fun. This garland is cute, unique and can be used for any occasion. I think it's perfect for birthday party decorations. When you make your own, you can choose any color or size to fit your needs. There is even a tool you can use to create them, which was news to me, but you can make them without a tool, as well.
No matter the age of the person whose birthday you are celebrating, there should be something here you can use to do it up big. Which projects do you want to try?
Related Posts
5 DIY Halloween Decorations with Cricut